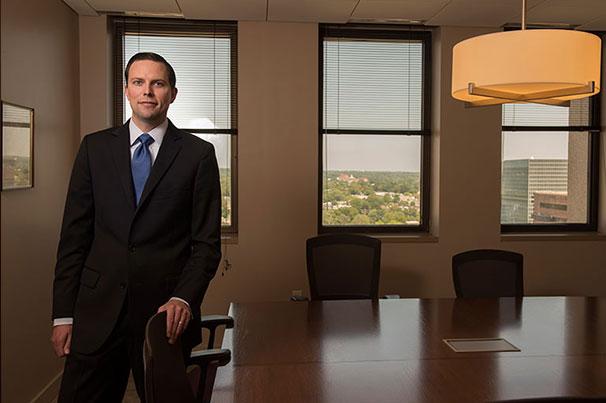 Professional Experience:
Mr. Uebler practices fiduciary and corporate litigation in the Delaware Court of Chancery and other Delaware courts.  Before joining Cooch and Taylor, he practiced corporate litigation with Richards, Layton & Finger.  In addition to his litigation practice, Mr. Uebler counsels clients on statutory and fiduciary duties under Delaware law.
In law school, Mr. Uebler was the editor in chief of the Delaware Journal of Corporate Law, and he served as a Wolcott Clerk to the Honorable Randy J. Holland of the Delaware Supreme Court.
Super Lawyers recognized Mr. Uebler as a Delaware Rising Star in 2014, 2015, 2016, and 2017.
Select experience:
• Represented corporate trustee in successfully defending beneficiaries' breach of trust claims based on the corporate trustee's governance and investment practices
• Represented corporate trustee in defending beneficiary's claim challenging a trust decanting under Delaware law
• Represented companies, directors, officers, and stockholders in corporate control, corporate governance, statutory, advancement, indemnification, books and records, appraisal, and contractual disputes
• Represented beneficiaries through a successful trial in revoking an invalid will from probate and admitting to probate a corrected version of the will
• Represented beneficiaries of a Delaware statutory trust in defending another beneficiary's claim to dissolve the trust
• Appointed by the Delaware Court of Chancery as the receiver of a dissolved Delaware corporation
• Appointed by the Delaware Court of Chancery as attorney ad litem for a minor in trust litigation
Admissions:
Delaware
U.S. District Court for the District of Delaware
U.S. Supreme Court
Education:
Widener University School of Law, J.D., summa cum laude, Valedictorian
Arizona State University, B.S., magna cum laude
Memberships:
Delaware State Bar Association, Member-At-Large of Executive Committee (2016-2017)
American Bar Association, Real Property, Trust and Estate Law Section
American Bar Foundation, Fellow
Personal and Community Activities:
Board of Bar Examiners of the Delaware Supreme Court, Associate Member (2011-2014)
Richard S. Rodney Inn of Court, Barrister
Delaware High School Mock Trial Competition, Tatnall School Coach
Friends of Wilmington Parks, President
Pi Kappa Alpha Fraternity, Risk Awareness Advisor
Publications:
In Declining to Modify a Trust, Chancery Court Reaffirms that a Settlor's Intent is Paramount, Delaware Banker (Summer 2015)
Preserving a Seller's Attorney-Client Privilege After Great Hill, Delaware Business Court Insider (2014)
Reinterpreting Section 141(e) of Delaware's General Corporation Law: Why Interested Directors Should Be "Fully Protected" in Relying on Expert Advice, The Business Lawyer (2010)
Post-Closing Remedies for Breach of the Duty of Disclosure, PLI (2009)
Shareholder Police Power: Shareholders' Ability to Hold Directors Accountable for Intentional Violations of Law, The Delaware Journal of Corporate Law (2008)
Finding Safe Harbor: Clarifying the Limited Application of Section 144, The Delaware Journal of Corporate Law (2008)
The (Mis)Application of Section 144, Delaware Lawyer (2008)